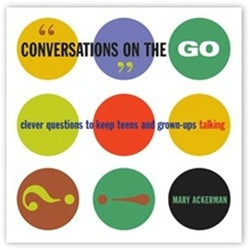 Clever Questions to Keep Teens and Grown-Ups Talking
--
Looking for a fun way to encourage family and other youth-adult conversations?  This book is bound to get you talking.  It is filled with intriguing questions, guaranteed to stretch the imagination and bring out each other's personality and true self.  Adults and young people can take turns asking questions such as:



If you were the smartest person in the world, what would you use your intelligence to do?


What does integrity mean to you?


If you could take the next year off what would you do?


This stimulating, go-anywhere book gives teens and adults a chance to find out what the other thinks about the big questions and the little ones.
2004
5.5 x 5.5 inches, 96 pages, softcover