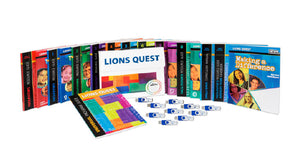 Lions Quest is a PreK-8 Social and Emotional Learning (SEL) program in use by educators in over 100 countries around the world.  Skills for Growing is available for PreK to Grade 5 and Skills for Adolescence for Grades 6-8.  The kit includes:
Facilitators Guide for one grade level
Student Journal
Universal Program Guide
Digital Resource with Families as Partners Meeting Guide & Family Connection worksheets 
Training is required in order to implement the Lions Quest program.