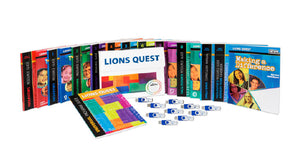 Lions Quest Skills for Action provides a complete Social and Emotional Learning (SEL) program for one-semester, one-year, or multi-year implementation.  Service learning is the strategy used, with either project or placement models.  A Skills Bank is also provided with activities to teach, reinforce, and enrich skills in 6 key areas (also sold separately). 
The kit includes:
Facilitators Resource Guide & Advisory Team Handbook
Curriculum Manual & Skills Bank
Making a Difference Student Magazine/Journal
Digital Resource with Handouts & Student/Magazine Journal 
Training is required in order to implement the Lions Quest program.