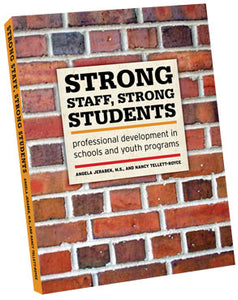 Professional Development in Schools and Youth Programs
--
Good schools start with good teachers, and the thoughtful, positive approach you'll find in Strong Staff, Strong Students will help you inspire and motivate your staff.  Full of personal inventories and food for thought as well as practical handouts and activities, this staff development guide provides a comprehensive set of tools for incorporating the Developmental Assets into your work.
Included you'll find:



A comprehensive PowerPoint introduction to the Developmental Assets for staff.


Schedules and suggestions for implementing your development program.


Activities designed to help staff build assets with each other and incorporate more asset building into their work.


Handouts and other materials to help spread the asset message among students and parents.